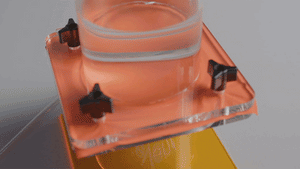 All of our jackets and waterproof masks are made with eVent® fabrics. The critical difference between this technology and traditional waterproof & breathable fabrics is the billions of microscopic pores built into the proprietary membrane that works instantly to vent water vapor (sweat) that builds inside.
This is Direct Venting™ technology, and unlike other technologies, it doesn't need to get wet to work. It's a 'dry system' that allows the fabric to be fully waterproof and fully breathable - keeping you dry and comfortable in the widest range of temperatures and conditions.
The technical details
Water Column: >30m Waterproof
MVTR: 15,000 - 25,000 g/m2 24H JIS L 1099 B2 (desiccant inverted cup method)
RET: 3 - 5 M2PA/W (ISO 11092)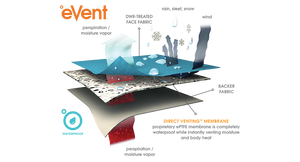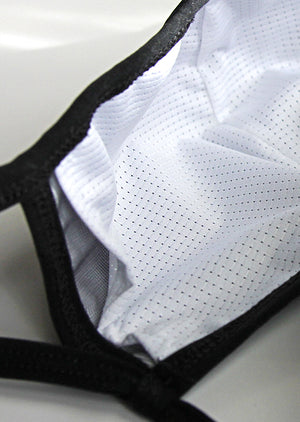 ChitoSante is an environmentally friendly treatment for fabrics made from a natural biomass called Chitosan; which is made from crab and/or shrimp shells. ChitoSante is created when Chitosan is combined with textile fibers during the dying/finishing process.
ChitoSante is the only anti-bacterial bio-agent in the world that is certified by the US Environmental Protection Agency. It has properties that inhibits the growth of bacteria, is odor resistant, moisture wicking, soft and fast drying.
Used on our Recycled PET Polyester masks, it is 100% post consumer recycled material that is revolutionary in its inception and its potential. The polyester fiber is made from recycled post-consumer plastic drinking bottles.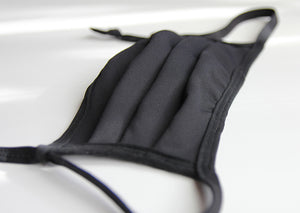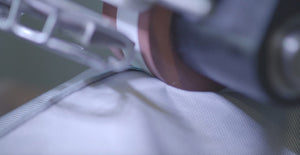 Seam sealing and body specific designs
Jackets for men and women are designed and tested separately, guaranteeing for the most comfortable and practical fits. 
Our team meticulously seals all individual seams on every jacket in our workshop and factory in Vancouver, Canada. Other manufacturers often use waterproof fabrics but neglect to seal stitched seams where water penetrate through the needle holes.
Each jacket weighs less than 750g
 Our design and production team selects the highest quality and most durable trims and notions available on the market. The zippers, glue, thread, snaps and seam tape are among the most lightweight and durable.
As a result, each jacket weighs less than 750g and can easily pack away into it's hood for travel.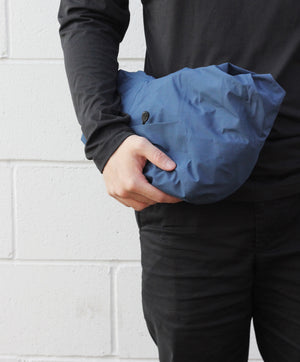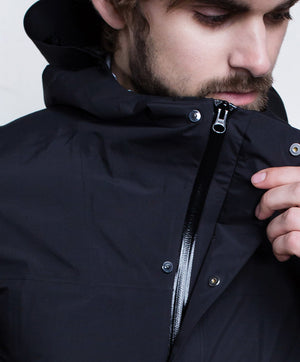 Waterproof zippers
All outer zippers, where protection and reliability is needed most, are genuine YKK Aquaguard® Zippers. Along with our seam sealing techniques and careful assembly, our jackets are made for the rain.
Size Chart
Note: Measure your body, not an article of clothing, to determine your clothing size.
How do I find my measurements?
Mens

XS

S

M

L

XL

XXL

Arms

(from center back)
31.5 in
80 cm
32.5 in
83 cm
33.5 in
85 cm
34.5 in
88 cm
35.5 in
90 cm
36.5 in
93 cm

Chest

35.5 in
90 cm

37.5 in
95 cm

39.5 in
100 cm

42.5 in
108 cm

45.5 in
116 cm

49.5 in
126 cm

Waist

28 in
71 cm
31 in
79 cm
33 in
84 cm
36 in
91 cm
39 in
99 cm
43 in
109 cm

Hips

35.5 in
90 cm
37.5 in
95 cm
39.5 in
100 cm
42.5 in
108 cm
45.5 in
116 cm
49.5 in
126 cm
Womens

XS

S

M

L

XL

XXL

Arms

(from center back)

29 in
74 cm
30 in
76 cm
31 in
79 cm
32 in
81 cm
33 in
84 cm
34 in
86 cm

Chest

32.5 in
83 cm
34.5 in
88 cm
36.5 in
93 cm
39.5 in
100 cm
43.5 in
110cm
47.5 in
121 cm

Waist

26 in
66 cm
28 in
71 cm
30 in
 76 cm
33 in
84cm
37 in
94 cm
41 in
104 cm

Hips

35.5 in
90 cm
37.5 in
95 cm
39.5 in
100 cm
42.5 in
108 cm
46.5 in
118 cm
50.5 in
128 cm