Practical, stylish and made for all motion. That's our philosophy.
We put in into our name. PAN, comes from the Greek word for "all", and TAVUS comes from the SUVAT equations of motion. Nerdy? We'd like to think so. It's our passion for clever engineering, collaborative design, thoughtful construction and material selection in a word. Made for all motion means clothing that is inspired by the natural and urban environments we live in. Items that are high quality and versatile, so you can do more with less. Clothing that is fit for everyday life, everyday.
Behind the Scenes: from our hands to yours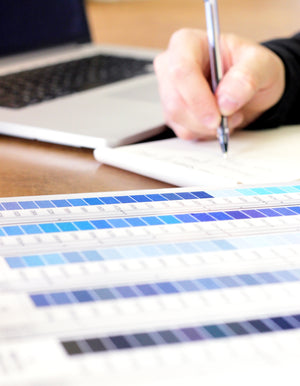 Designers local to unpredictable weather
Our team of pattern makers and designers live and play in the often cold and wet Pacific Northwest. So we know what it's like to be soaked to the bone one minute and back under the sun the next.
We take care in selecting our materials and partners so that our garments are dependable no matter the weather or activity. Clothing that we can think less about and do more with. 
Vigorous testing and iteration
We may seem like the new kids but we've been behind the scenes as a manufacturer for over 15 years. Our experienced design and production teams work together under one roof in East Vancouver to test and iterate on every product.
We check for waterproofing on our seams with hydrostatic testing techniques. Fit and comfort are assessed through filed testing. We also invite you to give us feedback on how we could make clothing better and we'll see how we can work those thoughts into the next batch.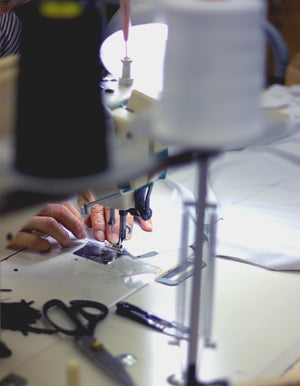 In-house production and quality control
Our sewers, machine operators and production team work right alongside our designers. If there are any design or manufacturing issues, we can work corrections into our iterations easily.
Holding quality and versatility at the core of our products, we continually evolve to include new technologies and production methods that take our designs further.
Size Chart
Note: Measure your body, not an article of clothing, to determine your clothing size.
How do I find my measurements?
Mens

XS

S

M

L

XL

XXL

Arms

(from center back)
31.5 in
80 cm
32.5 in
83 cm
33.5 in
85 cm
34.5 in
88 cm
35.5 in
90 cm
36.5 in
93 cm

Chest

35.5 in
90 cm

37.5 in
95 cm

39.5 in
100 cm

42.5 in
108 cm

45.5 in
116 cm

49.5 in
126 cm

Waist

28 in
71 cm
31 in
79 cm
33 in
84 cm
36 in
91 cm
39 in
99 cm
43 in
109 cm

Hips

35.5 in
90 cm
37.5 in
95 cm
39.5 in
100 cm
42.5 in
108 cm
45.5 in
116 cm
49.5 in
126 cm
Womens

XS

S

M

L

XL

XXL

Arms

(from center back)

29 in
74 cm
30 in
76 cm
31 in
79 cm
32 in
81 cm
33 in
84 cm
34 in
86 cm

Chest

32.5 in
83 cm
34.5 in
88 cm
36.5 in
93 cm
39.5 in
100 cm
43.5 in
110cm
47.5 in
121 cm

Waist

26 in
66 cm
28 in
71 cm
30 in
 76 cm
33 in
84cm
37 in
94 cm
41 in
104 cm

Hips

35.5 in
90 cm
37.5 in
95 cm
39.5 in
100 cm
42.5 in
108 cm
46.5 in
118 cm
50.5 in
128 cm