THE KEYS TO SUPERIOR WATERPROOFING
DWR Waterproof Membrane
Fully Seam Sealed
YKK AquaGuard® Zippers
There's "water resistant", then there's "waterproof". This is beyond both.
It starts with the fabric
We use a 3-layer waterproof membrane fabric from eVent®. Similar to GORE-TEX®, it's a high-tech fabric with microscopic pores that are smaller than water droplets but larger than vapor. This allows the fabric to breathe while blocking out the elements.
Our fabrics are also treated with a DWR coating, a durable water repellent finish. This prevents the water from soaking through. You know it's working when water beads and rolls off the surface of your jacket.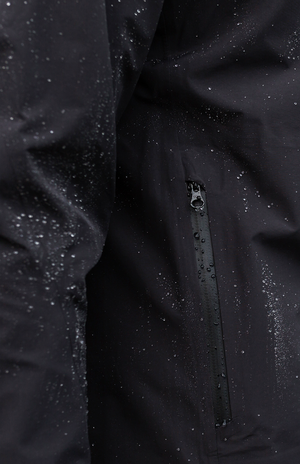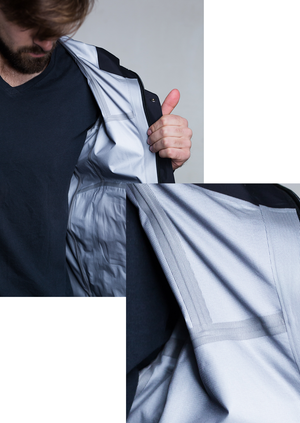 Combined with Seam Sealed construction
When the panels of a garment are sewn together, needle holes are created in the fabric. No matter how waterproof the fabric is, these holes allow water to seep through.
The solution: seam sealing.
All panels on our jackets are meticulous sealed with seam tape. The tape is applied through high pressure and heat while hand-guided jacket by jacket through a sealer. Not only does it allow your jacket to work better in the rain, it also strengthens the seams so that your jacket lasts longer.
Every angle considered
Keep your belongings dry. All exterior pockets are equipped with waterproof YKK AquaGuard® Zippers. From the center body zipper to all exterior side and back pocket zippers.
Zippers are applied with heat and adhesive to ensure a tight and impermeable bond.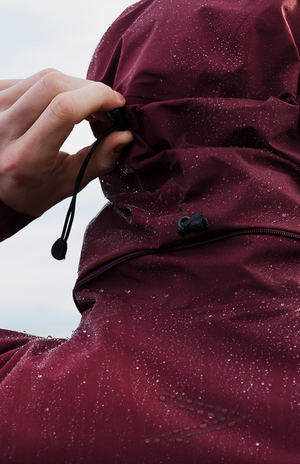 High Quality Details
Our design and production team selects the highest quality and most durable and lightweight trims and notions available on the market. "Notions" are the zippers, glue, thread, snaps, cords plastic ends etc.
Each jacket is assembled by the hands of our experienced seamsters. With our eye for detail and care, we ensure every item is a piece we are proud of. We are a new brand but we've been manufacturing apparel for world class brands for years.
Size Chart
Note: Measure your body, not an article of clothing, to determine your clothing size.
How do I find my measurements?
Mens

XS

S

M

L

XL

XXL

Arms

(from center back)
31.5 in
80 cm
32.5 in
83 cm
33.5 in
85 cm
34.5 in
88 cm
35.5 in
90 cm
36.5 in
93 cm

Chest

35.5 in
90 cm

37.5 in
95 cm

39.5 in
100 cm

42.5 in
108 cm

45.5 in
116 cm

49.5 in
126 cm

Waist

28 in
71 cm
31 in
79 cm
33 in
84 cm
36 in
91 cm
39 in
99 cm
43 in
109 cm

Hips

35.5 in
90 cm
37.5 in
95 cm
39.5 in
100 cm
42.5 in
108 cm
45.5 in
116 cm
49.5 in
126 cm
Womens

XS

S

M

L

XL

XXL

Arms

(from center back)

29 in
74 cm
30 in
76 cm
31 in
79 cm
32 in
81 cm
33 in
84 cm
34 in
86 cm

Chest

32.5 in
83 cm
34.5 in
88 cm
36.5 in
93 cm
39.5 in
100 cm
43.5 in
110cm
47.5 in
121 cm

Waist

26 in
66 cm
28 in
71 cm
30 in
 76 cm
33 in
84cm
37 in
94 cm
41 in
104 cm

Hips

35.5 in
90 cm
37.5 in
95 cm
39.5 in
100 cm
42.5 in
108 cm
46.5 in
118 cm
50.5 in
128 cm