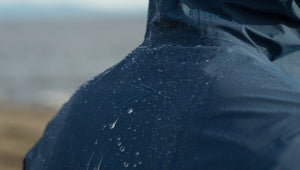 To Celebrate the Launch of Our Jackets
3 Rain Jackets for Any Weather
We are beyond excited to be launching our shell jackets just in time for the autumn rain. Super light jackets, windproof, waterproof, from zippers to seams. Made of a high-tech fabric called eVent® — an alternative to Gore-Tex®.
Everyday Commuter
Designed for 9 to 5 commuters and after work cyclists and joggers in mind. Equipped with reflectors, draw cords and an adjustable hood that can expand to fit over a helmet.


All-Purpose Trench
Versatile in style and function. A classy waterproof trench that can fit in just about anywhere while keeping you warm and dry without weighing you down. Perfect for travel.


City Trench
The newest addition to our lineup. A minimalist trench with both zippers and magnetic buttons so you can zip up fully for harsh conditions or snap quickly when moving between locations.
A special gift for our first 150 orders
Get a super soft, bamboo and cotton rayon Pantavus mid-layer with your jacket. Crafted with flatlock seams for comfort and to avoid chafing. These were specially made for our launch and won't be sold separately. 
Here's a sneak peek:
If you are one of our first 150 jacket orders, we will send you an email shortly after your purchase to get your size and colour option. 
From our hands to your, made in Vancouver,
The Pantavus Team
---
Also in Studio
Size Chart
Note: Measure your body, not an article of clothing, to determine your clothing size.
How do I find my measurements?
Mens

XS

S

M

L

XL

XXL

Arms

(from center back)
31.5 in
80 cm
32.5 in
83 cm
33.5 in
85 cm
34.5 in
88 cm
35.5 in
90 cm
36.5 in
93 cm

Chest

35.5 in
90 cm

37.5 in
95 cm

39.5 in
100 cm

42.5 in
108 cm

45.5 in
116 cm

49.5 in
126 cm

Waist

28 in
71 cm
31 in
79 cm
33 in
84 cm
36 in
91 cm
39 in
99 cm
43 in
109 cm

Hips

35.5 in
90 cm
37.5 in
95 cm
39.5 in
100 cm
42.5 in
108 cm
45.5 in
116 cm
49.5 in
126 cm
Womens

XS

S

M

L

XL

XXL

Arms

(from center back)

29 in
74 cm
30 in
76 cm
31 in
79 cm
32 in
81 cm
33 in
84 cm
34 in
86 cm

Chest

32.5 in
83 cm
34.5 in
88 cm
36.5 in
93 cm
39.5 in
100 cm
43.5 in
110cm
47.5 in
121 cm

Waist

26 in
66 cm
28 in
71 cm
30 in
 76 cm
33 in
84cm
37 in
94 cm
41 in
104 cm

Hips

35.5 in
90 cm
37.5 in
95 cm
39.5 in
100 cm
42.5 in
108 cm
46.5 in
118 cm
50.5 in
128 cm