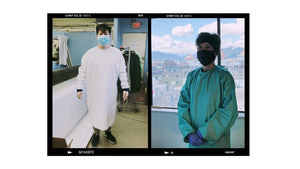 Behind the Scenes with Eric: Level 3 Isolation Gowns
Any other year it would be weird to see a jacket company go out with face masks as their first product. But this is 2020. As we settle into the new normal, we virtually sat down with Eric Leong, Pantavus founder, to understand how this all came to be.
How did Pantavus come to be involved with making level 3 isolation gowns?
We were contacted by the BC Apparel and Gear Association about potentially manufacturing PPE for Vancouver Coastal Health in April. There were wide impacts to the global supply chain for medical gowns, so naturally BCAG to reached out to local clothing manufacturers to help solve this problem. Mustang Survival and other members of BCAG began developing and prototyping gowns using fabrics that local factories had in stock. Once Mustang Survival finished development, they asked us to partner with them in the mass production of these level 3 isolation gowns as we had the specialized equipment and capabilities readily available. It continues to be very exciting working alongside them to help solve the issue of shortage of medical gowns for our front line health workers.
With COVID-19 and related changes to production, how has the factory needed to pivot?
We've made some major changes to our factory to comply with local social distancing laws and to ensure the safety of our team. Some changes include:
Sewing machines re-positioned to include 2 meters of distance between sewers at all times
Surfaces are disinfected regularly
Wearing of face masks is encouraged
Gloves are required when handling fabric
But in terms of retooling our machines or process changes, not much as changed as jackets and medical gowns are very similar.
How are jackets similar to medical gowns?
The jackets are similar to medical gowns in that they are also made from a waterproof/breathable fabric. All sewn seams are sealed with waterproof tape so liquid and droplets don't penetrate the garment through needle holes created in the sewing of the seams. This is exactly what we to do ensure waterproofing for our rain jackets.
Like jackets, medical gowns don't simply use a waterproof fabric but also one that is breathable. Just as wearing a jacket that doesn't breathe while exercising can cause the inside to become very wet, a healthcare worker's medical gown that doesn't breathe can also get wet on the inside and cause a large amount of discomfort for the wearer. Thus, there's potential for the wearer to not perform at their best or needing to shorten their length of performance due to discomfort caused by a non-breathable fabric.
What about the masks that the team is using? What was the process of getting them designed and made like?
To be honest, it was very organic how we came to make masks. After the CDC and Canadian government issued guidelines for non-medical face coverings for public use, our team begin to collaborate with one another to make masks for themselves using fabric and raw materials that we had in stock. Because our design and manufacturing teams work under the same roof, the procedure of designing, prototyping, creating and testing was very easy. We iterate over and over again, through about 6 designs, until we found a mask design we liked.
Some of our team members wore the masks home. Family members asked where they bought these masks and commented about how well they looked. We started making more and gave them to friends and family members free of charge. We received such positive feedback and forward momentum that we ultimately decided to take the masks to market. 
What's next? Is your factory continuing to make PPE? Will Pantavus make jackets again? 
I can't say for certain how long we will be making PPE. I can say, however, that the amount of PPE manufacturing we will partake in will likely follow in proportion to the shortage of PPE equipment in Canada. Yes, we will make jackets again; in fact, we haven't stopped. We've merely temporarily shifted a large portion of our manufacturing to medical gowns. Pantavus jackets are still being worked on, albeit at a much slower rate compared to prior to the Covid19 pandemic. 
Not only are we gearing up for the launch of our jackets for sale in our online store later this year, we're working with Japanese crowdfunding retailer, TORICHAN MART, and will be fulfilling Pantavus jacket orders once their campaign ends. You can take a look at what we're working on in the Factory section.
From everyone at Pantavus, we thank you for your continued support and hope that you and your family is healthy and keeping safe during these trying times.
The Pantavus Team