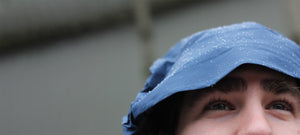 eVent® vs other ePTFE fabrics like Gore-Tex®, what's the difference?
When you're paying a few hundred dollars for a quality jacket, it's good to know what you're paying for. Part of the it is the highly technical nature of the fabric that allows the garment to be so versatile. In the case of our jackets, that fabric is eVent.
The short answer:
Both are 100% waterproof and windproof. The main difference is eVent releases body heat faster and therefore on the flip side, others are more insulating. For everyday wear, such as walking your dog or going the work, you probably won't notice a difference. The release of heat is most noticeable when doing moderate or intense activity while wearing one layer such as a t-shirt when you're running, hiking or biking.
The technical answer:
To really know the difference, you first have to know what these fabrics are and how they work to release heat.
What's eVent and ePTFE fabric?
eVent and other ePTFE fabrics are both membrane fabrics layered together in a sandwich of a face and backing fabric that, when combined, are still thinner than a millimeter.
What's a membrane fabric?
Membranes are a material containing millions of microscopic pores that physically block water droplets out.  Membranes also have varying levels of breathability depending on how it physically moves vapour from the inside of the jacket to the outside. Both eVent and Gore-Tex make their membranes out of a material called ePTFE.
The difference is in diffusion.
Diffusion is how sweat vapour moves from the inside of the jacket to the outside. Getting scientific about it, when the inside of your jacket has a high concentration of steam and vapour coming from your body, it wants to spread out, such as to the outside of your jacket. That's diffusion.
With other membrane fabrics, there is a thin layer of PU (polyurethane, think rainboots!) between the backing fabric and the membrane. This adds a layer of protection but also slows down diffusion, the release of sweat vapour from your jacket. For your sweat vapour to be released, it must condense into liquid and make the PU layer wet (microscopically) before it can get to the membrane layer and escape.
With eVent, there is no PU layer. The diffusion is a "dry system" where sweat vapour can go through the backing layer to the membrane layer without turning to liquid and getting wet. It also means jackets made of eVent benefit from more frequent washing so dirt and oil don't clog the pores.
This is why you don't see arm vents on Pantavus jackets. The fabric is engineered to diffuse body heat without those extra zippers.
This is a very simplified explanation. There is a lot more science and trade secrets, that even we don't know, involved with how these fabrics are constructed.
Hope this makes things a little clearer!
The Pantavus Team