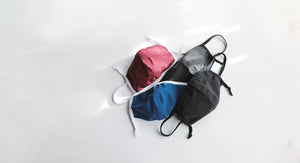 This isn't how we thought we thought we'd launch the store.
Friends, we did it. It's been over two years since the launch of our Kickstarter campaign and today we're excited to announce the launch of our online store, pantavus.com.
Back then, we launched our Kickstarter with the hope of creating jackets that are versatile and reliable while minimalistic in design. Jackets made to handle all the different activities we get up to throughout the day. Jackets that can be taken anywhere without having to think so much. And with core features like high quality, thoughtful waterproofing. Apparel that is more than fashion.
And that hasn't changed.
But the world has.
In March, we were halfway through assembling our first batch of jackets for the store. Due to COVID-19, we found ourselves, like many other small businesses, wondering what are we supposed to do now. And then something interesting happened. Together with the local apparel and textiles industry in Vancouver, we've begun working with local health authorities to produce much needed medical gowns.
Working with each other in the factory, we needed protective equipment of our own. So we made masks for ourselves. We learned that medical gowns share properties with our jackets, so naturally we made them out of the same fabric and used similar assembly techniques.
And now, instead of jackets, we're opening our store with the same waterproof, adjustable, reusable masks that we use at our factory. We hope more people can protect themselves and each other. While leaving surgical masks and N95s for the people who need it most — health care workers and people who fall ill.
It's been hard to convince our parents not to go out. It's hard to see our friends out on the front lines. Be it in the health care system or at the jobs that keep our communities running. We all want to do what we can to keep those numbers on the news from climbing. 
If you feel like showing someone you care, we'd like to give you a hand. Get yourself and a friend a mask and not only will you get a discount but we'll ship the second mask directly to your recipient wherever they are.
Take care out there.
If you'd ever like to reach out, find us at hello@pantavus.com.
Cheers,
The Pantavus team